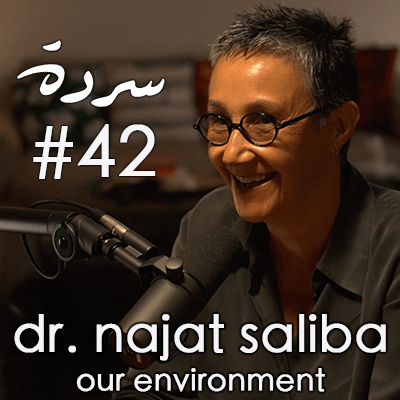 In this Sarde with Dr. Najat Saliba, AUB Professor of Atmospheric Chemistry, Co-executive Director of Khaddit Beirut and Director of Environment Academy, we discussed the following:
- How toxic is the air we breathe (before & after Aug 4th)
- The extreme pollution we live in Lebanon (cars & generators and other pollutants)
- The pollution in Lebanon's food & water
- The trash crisis that is drowning us in our own waste and the need to reorganize our recycling efforts
- Finding the way out to both save our environment, ourselves and future generations.
بالهسردة مع د. نجاة صليبة، أستاذة كيمياء الغلاف الجوي في الجامعة الأمريكية في بيروت، مديرة التنفيذية المشاركة لخضّة بيروت مديرة الأكاديمية البيئية حكينا عن:
معرفة كمية السموم في الهواء الذي نتنفسّه (قبل وبعد ٤ آب)
التلوث الشديد الذي نعيشه في لبنان (السيارات والموتورات)
أزمة النفايات التي نغرق فيها
الحل الذي سينقذنا وينقذ بيئتنا والاجيال القادمة
Sarde (noun), [Sa-r-de]: A colloquial term used in the Middle East to describe the act of letting go & kicking off a stream of consciousness and a rambling narrative.
The Sarde After Dinner Podcast is a free space based out of the heart of Beirut, Lebanon, where Médéa Azouri & Mouin Jaber discuss a wide range of topics (usually) held behind closed doors in an open and simple way with guests from all walks of life.
SARDE EVERY SUNDAY with NEW EPISODES released WEEKLY!
8:00 PM 🇱🇧 🇸🇦 🇯🇴 🇮🇶 🇸🇾 🇵🇸
9:00 PM 🇴🇲 🇦🇪 🇶🇦 🇧🇭
6:00 PM 🇩🇿 🇲🇦 🇹🇳
7:00 PM 🇫🇷 🇪🇬 🇸🇩
1:00 PM East Coast 🇺🇸 | 10:00 AM West Coast 🇺🇸
Don't forget to like and subscribe to our channel for more episode & clips! It makes a huge difference!
www.youtube.com/sardeafterdinner
تابعوا سردة عبر يوتيوب، أنغامي، سبوتيفاي، ابل بودكاست وجوجل بودكاست
Connect with Dr. Najat
https://twitter.com/najat_saliba
https://www.instagram.com/najataounsaliba
Donate to Environment Academy:
Connect with Environment Academy
www.facebook.com/EnvironmentAcademyy
www.instagram.com/environment.academy
https://twitter.com/EnvironmentAcad
Connect with Sarde | @sardeafterdinner
https://www.instagram.com/sardeafterdinner   
https://www.facebook.com/sardeafterdinner
https://twitter.com/sardeaftrdinner
Connect with Medea
https://www.instagram.com/medea.azouri
https://www.facebook.com/medea.azouri
Read Medea's articles (French):
https://www.lorientlejour.com/author/3232-medea-azouri
Connect with Mouin
https://www.instagram.com/mouin.jaber