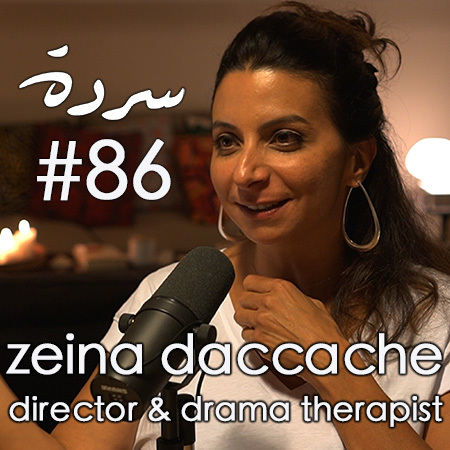 Zeina Daccache is an actress, director, therapist and the founder of "Catharsis", the Lebanese Center for Drama Therapy. She worked for 14 years with inmates in various prisons to bring attention to the drastic need for penitentiary reform in Lebanon. Her unwavering work led to the creation of 2 new laws.
She is now working creating the 3rd...
In this Sarde, we spoke about the following:
- How does Drama therapy affect prisoners 
- Working with undiagnosed mentally ill inmates 
-  Inside the 2011 intifada of prisons in Lebanon
- How foreign domestic workers fell in love "illegally"
- They grey area between self-defense, revenge and justice
- Why do the Lebanese think so highly of themselves?
- How Zeina drafted 2 laws into existence through her work
زينة دكّاش ممثلة ومخرجة ومعالجة نفسية أسّست كاتارسيس، المركز اللبناني للعلاج بالدراما. عملت خلال ١٤ سنة مع مساجين في عدّة سجون لتسليط الضوء على الحاجة الملحّة للإصلاح في نظام السجن في لبنان. 
أدّى عملها الدؤوب الى إنشاء  قانونين جديدين.
تحدّثنا في هذه السردة عن:
- كيف يؤثر العلاج بالدراما على المساجين؟
- العمل مع أشخاص تعاني من أمراض نفسية لم يتمّ تشخيصها بعد
- نظرة عن كثب على انتفاضة السجون في لبنان
- كيف يقع العمّال الاجانب في الحب "بطريقة غير شرعية" في لبنان ؟
- المنطقة الرمادية بين الدفاع عن النفس والانتقام والعدالة
- لماذا يقدّر اللبنانيون انفسهم؟
- كيف  تمكّنت زينة من اقرار قانونين من خلال عملها؟
Sarde (noun), [Sa-r-de]: A colloquial term used in the Middle East to describe the act of letting go & kicking off a stream of consciousness and a rambling narrative.
The Sarde After Dinner Podcast is a free space based out of the heart of Beirut, Lebanon, where Médéa Azouri & Mouin Jaber discuss a wide range of topics (usually) held behind closed doors in an open and simple way with guests from all walks of life.
سردة (إسم) سَرْدَةْ : مصطلح بالعامية يستخدم في منطقة الشرق الأوسط للدلالة على الاسترخاء وإطلاق سردية. يشكّل بودكاست سردة بعد العشاء مساحة حرّة من قلب بيروت، لبنان، حيث تناقش ميديا عازوري ومعين جابر عدّة مواضيع (لطالما) تمّت مناقشتها خلف أبواب مغلقة وذلك بطريقة بسيطة ومباشرة مع ضيوف من شتّى المجالات.
SARDE EVERY SUNDAY with NEW EPISODES released WEEKLY!
9:00 PM 🇱🇧 🇯🇴 🇵🇸 🇸🇾 🇰🇼 🇶🇦 🇸🇦 🇧🇭 🇹🇷 🇮🇶 🇸🇳 🇨🇮
10:00 PM 🇦🇪
8:00 PM 🇫🇷 🇪🇬 🇱🇾 🇸🇩 🇫🇷 🇩🇪🇸🇪
7:00 PM 🇹🇳 🇩🇿 🇲🇦
2:00 PM 🇨🇦 EST 🇺🇸
11:00 AM 🇨🇦 PDT 🇺🇸
6:00 AM 🇦🇺 AEST
Want to support our Sarde? Join our Patreon!
https://www.patreon.com/sardeafterdinner
Don't forget to like and subscribe to our channel for more episodes & clips! It makes a huge difference!
https://bit.ly/3ytaWfA 
 تابعوا سردة عبر يوتيوب، أنغامي، سبوتيفاي، أبل بودكاست وجوجل بودكاست
Connect with Sarde | @sardeafterdinner
https://www.instagram.com/sardeafterdinner
https://www.facebook.com/sardeafterdinner
https://twitter.com/sardeaftrdinner
Connect with Medea
https://www.instagram.com/medea.azouri
https://www.facebook.com/medea.azouri
Read Medea's articles (French):
https://www.lorientlejour.com/author/3232-medea-azouri
Connect with Mouin
https://www.instagram.com/mouin.jaber
Connect with Zeina
https://www.instagram.com/zeinadaccachelebanon/
https://www.facebook.com/daccache.zeina
https://twitter.com/zeinadaccache
Watch Zeina's Plays
12 Angry Lebanese
https://vimeo.com/199676764 
Scheherazade in Baabda
https://vimeo.com/199213060 
Shebaik Lebaik
https://vimeo.com/199676764 
From the Bottom of my Brain
https://vimeo.com/149609631 
Johar Up in The Air
https://vimeo.com/195074781 
Created by Médéa Azouri & Mouin Jaber
Executive Producer Rita Choueifati
Edited by Dana Abdessamad
Translated by Elodie Finestres & Joelle Saliba
Subtitling by Image Production House