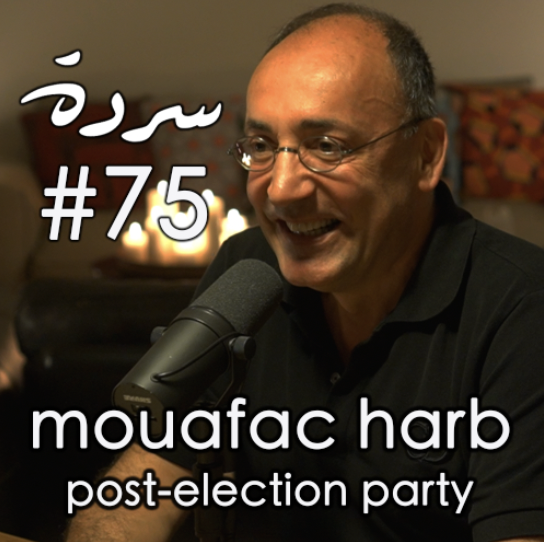 يظهر الصحافي والخبير السياسي والإعلامي موفّق حرب في سردة على ضوء نتائج الانتخابات البرلمانية ٢٠٢٢
نتكلّم في هذه الحلقة عن التالي: 
- هل دخلت الثورة إلى البرلمان؟
فرص المعارضة: ما لها وما عليها ؟
- ما كان تأثير المغتربين على نتائج الانتخابات؟
- من سيكون الرئيس المقبل للبنان ؟
- ما هي القضايا الشائكة التي يجب على المجلس النيابي الجديد مناقشتها؟
Journalist, and political and media consultant Mouafac Harb returns for a #sardeafterdinner on the 2022 Parliamentary Elections and results. 
In this Sarde, we spoke about the following:
- Has the Thawra truly entered Parliament? 
- An in-depth analysis of the results, who REALLY won?
- The gained and missed opportunities of the opposition
- What role did the Lebanese expats play to swing the elections?
- Who could be the next president of Lebanon
- What immediate issues this new parliament must tackle 
Sarde (noun), [Sa-r-de]: A colloquial term used in the Middle East to describe the act of letting go & kicking off a stream of consciousness and a rambling narrative.
The Sarde After Dinner Podcast is a free space based out of the heart of Beirut, Lebanon, where Médéa Azouri & Mouin Jaber discuss a wide range of topics (usually) held behind closed doors in an open and simple way with guests from all walks of life.
Please consider joining our community on Patreon and supporting us!
https://www.patreon.com/sardeafterdinner

SARDE EVERY SUNDAY with NEW EPISODES released WEEKLY!
8:00 PM 🇱🇧 🇯🇴 🇵🇸 🇸🇾 🇰🇼 🇶🇦 🇸🇦 🇧🇭 🇹🇷 🇮🇶 🇸🇳 🇨🇮
9:00 PM 🇦🇪
7:00 PM 🇫🇷 🇪🇬 🇱🇾 🇸🇩 🇫🇷 🇩🇪
6:00 PM 🇹🇳 🇩🇿
1:00 PM 🇨🇦 EST 🇺🇸
10:00 AM 🇨🇦 PDT 🇺🇸
5:00 AM 🇦🇺 AEST
Don't forget to like and subscribe to our channel for more episodes & clips! It makes a huge difference!
 تابعوا سردة عبر يوتيوب، أنغامي، سبوتيفاي، أبل بودكاست وجوجل بودكاست

Connect with Sarde | @sardeafterdinner
https://www.instagram.com/sardeafterdinner
https://www.facebook.com/sardeafterdinner
https://twitter.com/sardeaftrdinner

Connect with Medea
https://www.instagram.com/medea.azouri
https://www.facebook.com/medea.azouri
Read Medea's articles (French):
https://www.lorientlejour.com/author/3232-medea-azouri

Connect with Mouin
https://www.instagram.com/mouin.jaber