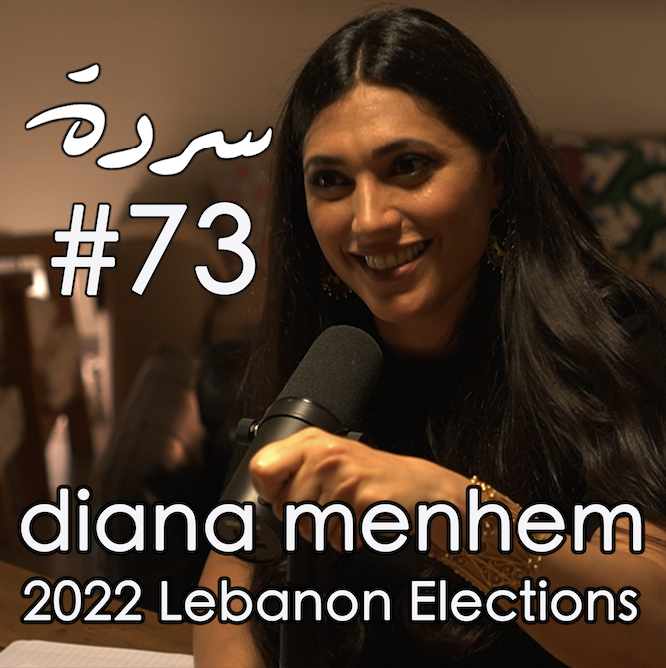 IT'S OUR TIME TO VOTE
Diana Menhem, public policy expert, managing director of Kulluna Irada and former UN advisor, talks about the upcoming parliamentary elections. From Lebanese Election Law to the current electoral lists, Diana breaks down everything you need to know about the 2022 parliamentary elections and the importance of practicing one of our most important democratic rights.
Now is the time for us to come together during this crucial time and practice our right to vote. Every.Single.Ballot.Counts.
In this Sarde, we spoke about the following:
-Is the Lebanese Political Opposition fractured?
- Do we have a chance of winning seats?
- Putting an end to "blank" voting and non-voting arguments
-What are the opposition lists in various electoral districts
-Why the current government is terrified of the elections
-The results of the latest polls and what they say about the current political landscape
Check out the official electoral lists in all voting districts below:
https://bit.ly/Electoral-lists-2022 
For more information visit the official Lebanese Elections website:
https://elections.gov.lb/Home.aspx 
حان وقت الانتخابات!
ديانا منعم الخبيرة في السياسة العامة، المديرة التنفيذية في كلنا إرادة، والمستشارة السابقة في الأمم المتحدة، تشارك كل الذي تحتاج أن تعرفه للإنتخابات النيابية. تفسر القانون الانتخابي اللبناني، تعدد أسماء لوائح المعارضة، وتوضح لماذا كل صوت مهم. في هذه الفترة المصيرية على كل منّا ممارسة هذا الحق الديمقراطي والقيام بالتصويت.
تحدثنا في هذه السردة عن:
-كيف يعمل القانون الانتخابي اللبناني 
-أهمية التصويت بشكل عام
-ما هي لوائح المعارضة في كل دائرة 
-لماذا السلطة الحالية خائفة من القوة المعارضة
-تفسير المفهوم أن التصويت بورقة بيضاء يعني التصويت للسلطة الحالية
-نتائج أجدد إستفتاء وكيف تصور الوضع السياسي الحالي
Sarde (noun), [Sa-r-de]: A colloquial term used in the Middle East to describe the act of letting go & kicking off a stream of consciousness and a rambling narrative.
The Sarde After Dinner Podcast is a free space based out of the heart of Beirut, Lebanon, where Médéa Azouri & Mouin Jaber discuss a wide range of topics (usually) held behind closed doors in an open and simple way with guests from all walks of life.
SARDE EVERY SUNDAY with NEW EPISODES released WEEKLY!
8:00 PM 🇱🇧 🇯🇴 🇵🇸 🇸🇾 🇰🇼 🇶🇦 🇸🇦 🇧🇭 🇹🇷 🇮🇶 🇸🇳 🇨🇮
9:00 PM 🇦🇪
7:00 PM 🇫🇷 🇪🇬 🇱🇾 🇸🇩 🇫🇷 🇩🇪
6:00 PM 🇹🇳 🇩🇿
1:00 PM 🇨🇦 EST 🇺🇸
10:00 AM 🇨🇦 PDT 🇺🇸
5:00 AM 🇦🇺 AEST
Don't forget to like and subscribe to our channel for more episodes & clips! It makes a huge difference!
 تابعوا سردة عبر يوتيوب، أنغامي، سبوتيفاي، أبل بودكاست وجوجل بودكاست
Connect with Sarde | @sardeafterdinner
https://www.instagram.com/sardeafterdinner
https://www.facebook.com/sardeafterdinner
https://twitter.com/sardeaftrdinner
Connect with Medea
https://www.instagram.com/medea.azouri
https://www.facebook.com/medea.azouri
Read Medea's articles (French):
https://www.lorientlejour.com/author/3232-medea-azouri
Connect with Mouin
https://www.instagram.com/mouin.jaber
Connect With Diana
https://mobile.twitter.com/dianamenhem 
Connect with Kulluna Irada
https://mobile.twitter.com/KullunaIrada 
https://www.instagram.com/kullunairada
https://www.facebook.com/KullunaIradaLebanon/