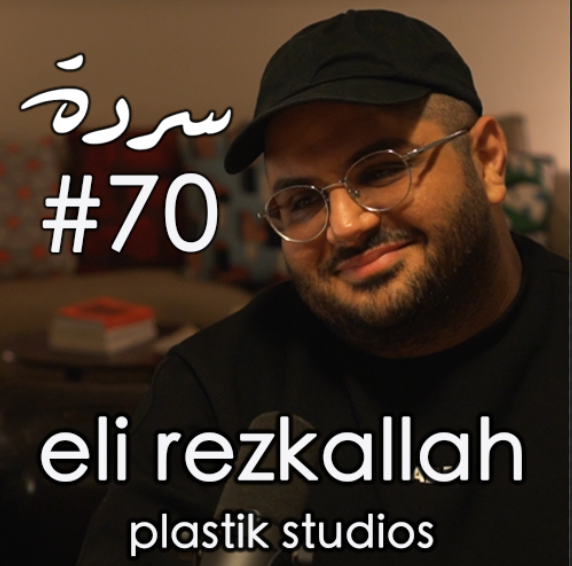 Please consider joining our community on Patreon and supporting us!
https://www.patreon.com/sardeafterdinner
إيلي رزق الله مصور وهو المؤسس والمدير الفني لمجلة بلاستيك وشركة بلاستيك ستوديوز. تميزت الحملات الإعلانية  التي قدمها في بيروت ونيو يورك  بأسلوبه الفني الفريد ذات الطابع الخاص. تمثل النساء في حياته وبالأخص والدته وأصدقائها مصدر إلهام دائم له، ويركز في اعماله و صوره على موضوع نساء يعشن في حالة إنكار للواقع. كما سيصدر كتابه "إيلي رزق الله: لايف إن بلاستيك" خلال هذا العام.
تحدثنا في هذه السردة عن:
- شعوره عند عودته إلى لبنان بعد سنتين من الهجرة الجماعية التي ألحقت إنفجار 4 آب 
- قصة انطلاق بلاستيك ستوديوز من العمل في شقة صغيرة في منطقة الجميزه إلى أن أصبحت معروفة دوليا.. من خلال العمل  مع أهم الماركات العالمية في مدينة نيويورك
- تجربته في إحضار أول أداء "دراغ" إلى لبنان 
- كيف ساهمت عملية إعداد كتابه في شفاء الجرح من وراء إنفجار 4 آب
- ماذا ينصح الفنانين، المصورين، المبتكرين اللبنانيين في وضعنا الحالي
Eli Rezallah is a photographer and the founder/creative director of Plastik Magazine and Plastik Studios. From Beirut to New York City, he has created several standout campaigns with his instantly-recognizable colorful style. He is continuously inspired by women, especially his mother, and a recurring theme in his work is the portrayal of women in denial.
His book "Eli Rezkallah: Life in Plastik" comes out later this year.
In this Sarde, we spoke about the following:
- How returning to Lebanon two years after the August 4th mass exodus felt like
- The story behind how Plastik Studios went from a small apartment operation in Gemmayze to becoming internationally recognized in New York
- Pioneering the first ever international drag performance in Lebanon
- How the process of creating his upcoming book has healed the wound left by the August 4th explosion
- A piece of advice/motivation for today's Lebanese artists, photographers, creatives etc
Sarde (noun), [Sa-r-de]: A colloquial term used in the Middle East to describe the act of letting go & kicking off a stream of consciousness and a rambling narrative.
The Sarde After Dinner Podcast is a free space based out of the heart of Beirut, Lebanon, where Médéa Azouri & Mouin Jaber discuss a wide range of topics (usually) held behind closed doors in an open and simple way with guests from all walks of life.
SARDE EVERY SUNDAY with NEW EPISODES released WEEKLY!
8:00 PM 🇱🇧 🇯🇴 🇵🇸 🇸🇾 🇰🇼 🇶🇦 🇸🇦 🇧🇭 🇹🇷 🇮🇶
9:00 PM 🇦🇪
7:00 PM 🇫🇷 🇪🇬 🇱🇾 🇸🇩 🇫🇷 🇩🇪
6:00 PM 🇹🇳 🇲🇦🇩🇿
1:00 PM 🇨🇦 EST 🇺🇸
10:00 AM 🇨🇦 PDT 🇺🇸
5:00 AM 🇦🇺 AEST
Don't forget to like and subscribe to our channel for more episodes & clips! It makes a huge difference!
https://bit.ly/3ytaWfA
 تابعوا سردة عبر يوتيوب، أنغامي، سبوتيفاي، أبل بودكاست وجوجل بودكاست
Connect with Sarde | @sardeafterdinner
https://www.instagram.com/sardeafterdinner
https://www.facebook.com/sardeafterdinner
https://twitter.com/sardeaftrdinner
Connect with Medea
https://www.instagram.com/medea.azouri
https://www.facebook.com/medea.azouri
Read Medea's articles (French):
https://www.lorientlejour.com/author/3232-medea-azouri
Connect with Mouin
https://www.instagram.com/mouin.jaber