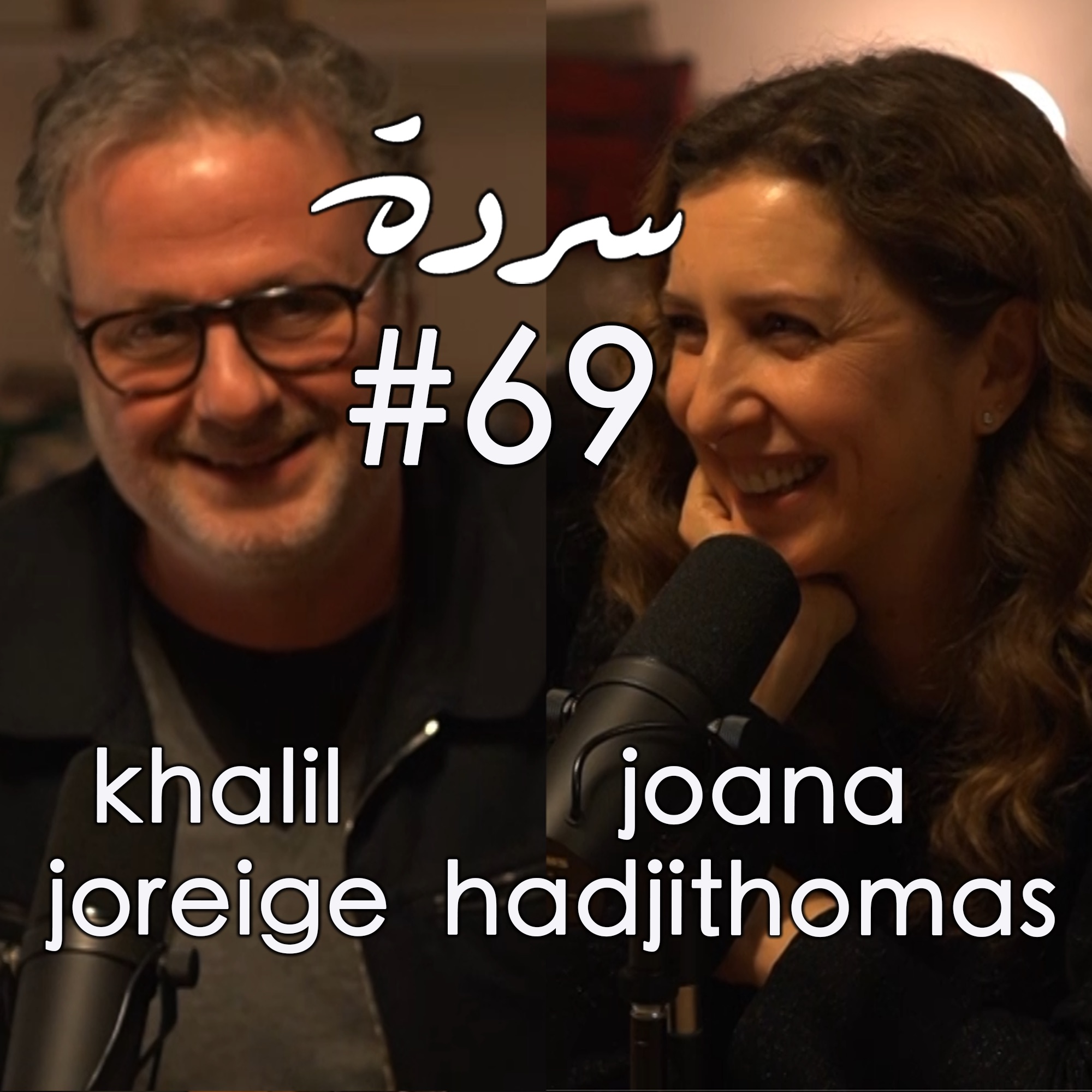 Please consider joining our community on Patreon and supporting us!
https://www.patreon.com/sardeafterdinner
جوانا حاجي توما وخليل جريج مخرجان وفنّانان و"باحثان" كما يعرّفان عن نفسهما.
تمكّنا، من خلال مقاربتهما الفريدة للمهنة من كشف خبايا تاريخية تلاشت في ذاكرتنا الجماعية بالإضافة إلى مناقشة المشاكل بين الاجيال التي تنبع من الآثار المكشوفة للحرب الأهلية اللبنانية.
تحدثنا في هذه السردة عن:
-"ميموري بوكس"، أجدد أفلامهما حاليًا في كل صالات السينما، والذي يتحدث عن تأثير الحرب الأهلية اللبنانية على ثلاثة أجيال
-الوثائقي "ذا لبنيز روكت سوسايتي" الذي فاز بجوائز عديدة وكيف أتت لهما فكرته
-صعوبة وتردد جيل بكامله من التحدث عن الحرب الأهلية اللبنانية للجيل الآخر
-تأثير فيروس كورونا على مجال صناعة الأفلام وكيف أصبحت صالات السينما المكان العام الأخير في لبنان
Joana Hadjithomas and Khalil Joreige are filmmakers, artists and "researchers", as they like to say. Their unique approach to their craft has allowed them to uncover hidden historical gems that were forgotten by our collective memory, and tackle and expose intergenerational issues that arise from the open wound of the Lebanese Civil War.
In this Sarde, we spoke about the following:
- "Memory Box" their newest film  now in cinemas, which tackles how three generations dealt with the trauma of the Lebanese Civil War
- Their award winning documentary "The Lebanese Rocket Society" and how it came to be
- One generation's difficulty/inability/reluctance to talk about the Lebanese Civil War to another
- How COVID affected the industry and how cinemas are the only common places left in the country
Sarde (noun), [Sa-r-de]: A colloquial term used in the Middle East to describe the act of letting go & kicking off a stream of consciousness and a rambling narrative.
The Sarde After Dinner Podcast is a free space based out of the heart of Beirut, Lebanon, where Médéa Azouri & Mouin Jaber discuss a wide range of topics (usually) held behind closed doors in an open and simple way with guests from all walks of life.
SARDE EVERY SUNDAY with NEW EPISODES released WEEKLY!
8:00 PM 🇱🇧 🇯🇴 🇵🇸 🇸🇾 🇪🇬 🇱🇾 🇸🇩
9:00 PM 🇰🇼 🇶🇦 🇸🇦 🇧🇭 🇹🇷🇮🇶
10:00 PM 🇦🇪
7:00 PM 🇫🇷 🇹🇳 🇲🇦🇩🇿 🇩🇪
2:00 PM 🇨🇦 EST 🇺🇸
11:00 AM 🇨🇦 PDT 🇺🇸
Don't forget to like and subscribe to our channel for more episodes & clips! It makes a huge difference!
https://bit.ly/3ytaWfA
 تابعوا سردة عبر يوتيوب، أنغامي، سبوتيفاي، أبل بودكاست وجوجل بودكاست
Connect with Joana and Khalil
@hadjithomasjoreige
@abboutjoana
hadjithomasjoreige.com
Connect with Sarde | @sardeafterdinner
https://www.instagram.com/sardeafterdinner
https://www.facebook.com/sardeafterdinner
https://twitter.com/sardeaftrdinner
Connect with Medea
https://www.instagram.com/medea.azouri
https://www.facebook.com/medea.azouri
Read Medea's articles (French):
https://www.lorientlejour.com/author/3232-medea-azouri
Connect with Mouin
https://www.instagram.com/mouin.jaber