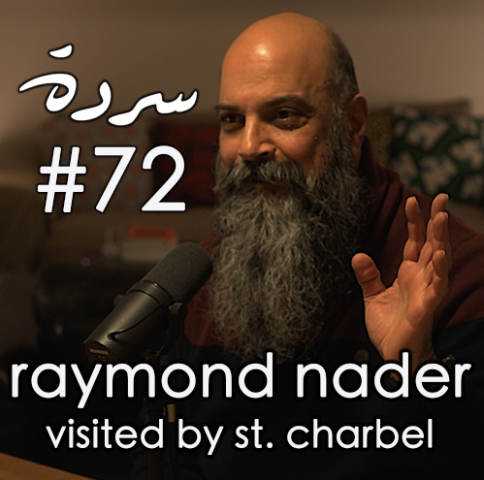 يدّعي المحارب السابق والمهندس النووي ريمون ناضر أن القديس شربل ظهر له يوم عيد ميلاده في 10 تشرين الثاني 1994. ترك هذا اللقاء الإستثنائي حرقا من الدرجة الثالثة على ذراعه اليسار على شكل يد، ورسالة يريد توصيلها إلى العالم.
تحدثنا في هذه السردة عن:
-ماذا حصل في الليلة التي زاره فيها القديس شربل
-كيف تلقت كل من الكنيسة، الدولة، والصحافة قصة حادثته
-خطوات الفتيكان للتعامل مع العجائب والقديسين 
-الموقف النفاقي للشخصيات الدينية والسياسية 
-تفسير التأثير العالمي للقديس شربل، المعروف حتى في ألسكا
-كيف ممكن التوفيق بين وقته كمحارب وحاضره كرجل على طريق الله
_____________________
Ex-militant and nuclear engineer Raymond Nader claims to have been visited by Saint Charbel on his birthday, November 10, 1994. After this life-changing encounter, he was left with a 3rd degree burn in the shape of a hand on his left arm and a message. 
In this Sarde, we spoke about the following:
-What exactly happened on the night he was visited by Saint Charbel
-How the church, the state and the media dealt with his experience
-The Vatican's procedures in dealing with miracles and saints
- The hypocritical stance of religious figures and politicians 
-Why and how Saint Charbel has had an impact across the world (including Alaska)
-How it is possible to reconcile his past as a war veteran with his present as a man of God
Want to support this channel? Visit our Patreon!
https://www.patreon.com/sardeafterdinner 
Sarde (noun), [Sa-r-de]: A colloquial term used in the Middle East to describe the act of letting go & kicking off a stream of consciousness and a rambling narrative.
The Sarde (after dinner) Podcast is a free space based out of the heart of Beirut, Lebanon, where Médéa Azouri & Mouin Jaber discuss a wide range of topics (usually) held behind closed doors in an open and simple way with guests from all walks of life.
SARDE EVERY SUNDAY with NEW EPISODES released WEEKLY!
8:00 PM 🇱🇧 🇯🇴 🇵🇸 🇸🇾 🇰🇼 🇶🇦 🇸🇦 🇧🇭 🇹🇷 🇮🇶 🇸🇳 🇨🇮
9:00 PM 🇦🇪
7:00 PM 🇫🇷 🇪🇬 🇱🇾 🇸🇩 🇫🇷 🇩🇪
6:00 PM 🇹🇳 🇩🇿
1:00 PM 🇨🇦 EST 🇺🇸
10:00 AM 🇨🇦 PDT 🇺🇸
5:00 AM 🇦🇺 AEST
Don't forget to like and subscribe to our channel for more episodes & clips! It makes a huge difference!
 تابعوا سردة عبر يوتيوب، أنغامي، سبوتيفاي، أبل بودكاست وجوجل بودكاست
Connect with Sarde | @sardeafterdinner
https://www.instagram.com/sardeafterdinner
https://www.facebook.com/sardeafterdinner
https://twitter.com/sardeaftrdinner

Connect with Medea
https://www.instagram.com/medea.azouri
https://www.facebook.com/medea.azouri
Read Medea's articles (French):
https://www.lorientlejour.com/author/3232-medea-azouri
Connect with Mouin
https://www.instagram.com/mouin.jaber
Connect with Raymond 
https://www.facebook.com/Raymond.F.Nader 
https://twitter.com/RaymondNader 
https://www.instagram.com/raynadder
Noursat Telelumiere
Famille Saint Charbel
https://www.ayletmarcharbel.org/ 
Liban Message
https://www.libanmessage.org/ar/Home